Horse Dining Chair, Western Rustic Furniture
Horse dining chair for your western home decor, ranch decor, or western horse decor.
Adorn your home with high quality cabin furniture!
Solid wood, no veneers or plastic fillers are used.
Clear coated lacquer finish for extra durability.
This beautiful horse chair is sure to become a family heirloom and enjoyed for generations.
20" x 22" x 36"
Ships directly from the manufacture in 2 - 3 business days, on rare occasions the manufacture does not have this in stock, it may take 2 - 8 weeks for delivery to your home. You may contact us about availability.
Free shipping lower 48 US states only
These may be picked up in Chicago from the manufacture and the price is $239
The chairs are also available in bear, moose, deer, loon, pine trees, elk, and fish designs.
Also have dining tables (round, square, and rectangle), coffee tables, end tables, screen doors, benches, bar stools, sofa tables, etc to match. See the Woodcreek furniture line.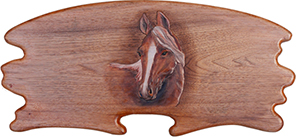 FBT405
you will get the horse design on your chair. This picture shows what the chair looks like.