Woodcreek Bear Dining Table Set
Bear Rustic Furniture, Log Cabin Dining Furniture
The rustic dining table set consists of a rectangle table, 4 chairs and a bench.
**or you may order, 2 chairs, 2 benches or 6 chairs etc. Just tell us what you want and we will give you a quote.

Call 507-381-4518 or email connie@northerncreek.com with any questions

Quality handcrafted rustic furniture for your log cabin decor, rustic home decor
Handcrafted from natural solid wood, no veneers are used
Clear coat catalyzed lacquer finish for extra durabilty
These pieces are heavy and well built
This rustic dining table set is sure to become a family heirloom and enjoyed for generations.

Table 67" W x 36"D x 30"H
Chair 20" W x 18" H 30" H with back, 22" D x 22"
Bench 48" W x 18" H x 12" D
Tax Included
The table set will match, all natural wood.
You will get the bear design on all unless stated otherwise.

On occasion this may be out of stock you may contact us to check on availability. 507-381-4518
Free shipping lower 48 US states, ships in 3 - 4 business days
You could get the chairs or bench in the pine tree or pine cone design.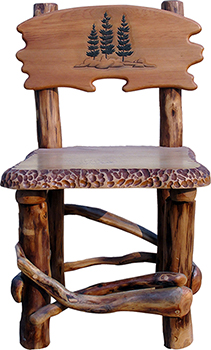 This may be picked up in Chicago Illinois 1444 W. 37th ST, and the price is $2189 for the set.
Call 507-381-4518 if you wish to pick up